This cilantro and herb chutney is the one thing you didn't know you were missing in your life! It will soon become a favorite.
It came about one day when I was picking herbs from my garden and decided to recreate favorite chutney I had at one of my favorite indian restaurants. It's easy, quick and very flavorful and I love it! For instance, it's highly forgiving (as you can tell by the measurements ~ a handful of this, a handful of that). In addition, it pares well with both indian dishes, or anything you have on hand that deserves a little kick (like the Easy Lentil Flatbread with hummus). What's not to love about such an easy, versatile, flavorful recipe?
You can make it up in a mortar and pestle, but I found it easiest in a small blender. A high speed blender will do as well, as long as you have a tamper to push down the ingredients. The basins of a Vitamix or Blendtec tend to be big, so opt for the smallest blender (or food processor) you have. I used a Tribest blender like this one.
Let's get started with the recipe:
One large handful cilantro
Small handful parsley
Few sprigs mint
Small handful chives
1-2 cloves of garlic
1/2 lemon, juiced
pinch of salt, or adjust to your taste
1/3 cup water
1 jalapeño, seeded (or less, based on how you tolerate heat)
First, wash your herbs well.
Then, blend all ingredients until smooth and serve with your favorite indian dahl (lentils or beans) or veggies. That's it! Simple.
Lastly, for Bright Line Eating™, this recipe counts towards your vegetables (although I'll admit, since it's basically just herbs, I use it mostly as a free condiment).
How to pair cilantro and herb chutney
I love this chutney as a dressing over salad sometimes (you can also thin it out with a bit of oil and extra water)
Drizzle over hummus
It pairs nicely with Easy Lentil Flatbread
Use it on a crudites platter as a dip
Add a dollop to soup or stews to add extra flavor
Drizzle it over eggs cooked alongside tomatoes in indian spices
Serve it over baked chicken or protein of choice
It's perfect for Indian red lentil dahl
Honestly, it goes with everything.
In other words, it's the perfect side kick to a movie, basically.
Recipes that partner well with this chutney
Hummus
Indian Red Lentil Dahl
How to personalize this recipe if you're missing ingredients
Make it all about cilantro! (about 2.5 handfuls)
Make it only with cilantro and mint (one handful cilantro, one handful mint)
Throw in raw sweet onion or shallots in place of chives
Use garlic chives in place of regular chives for an additional flavor punch
That's it!
Let me know if you try this recipe and how you like it. Above all, make it yours!
Pin It For Later!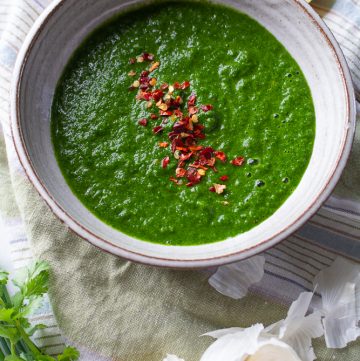 Cilantro And Herb Chutney
A quick, delicoius sauce or dip to use with your favorite veggies, dahl, grain, and protein!
Equipment
Blender (small, or preferably with a tamper)
Ingredients
1

large

handful of cilantro, washed well

1

small

handful parsley

Few

sprigs

fresh mint

1

small

handful of chives

1-2

cloves

garlic, chopped

1/2

lemon, juiced

1

pinch

salt, or adjust to your taste

1/3

cup

water

1

jallapeno, seeded (or less, based on how you tolerate heat)
Instructions
Blend all ingredients until smooth.

Serve with your favorite proteins, grains, veggies, or use on top of hummus, dahl, and curries.
Notes
For Bright Line Eating, this recipe counts towards your vegetable portion (although I admit it's mostly herbs and I usually use it sparingly as a condiment). Do what feels right to you.